By Eman Abu Qaou'd
According to Hanan Al-Widyan, owner of Irbid's "Amma Hanan's Kitchen", social barriers can be overcome with determination and an adventurous spirit, and failure is merely a stop on the route to success.
Fifteen years ago, Al-Widyan was asked by a neighbor to cook for their guests; what started as a one-time experience in her small kitchen grew to become a restaurant, "Amma Hanan's  KitchenKitchen", followed by "Irbid Ladies' Kitchen" with the support of the "Environmental Lab" for testing food, medication and make-up products, as part of the Jordan Valley Links project funded by the Canadian MEDA.
Speaking to Al Nahda Women Network about the motivation behind her project, Al-Widyan says: "I started it for two reasons, to improve my family's income and my children's education opportunities, and to preserve traditional Jordanian dishes such as "makmoura" and "sha'asheel", and others I learned from my mother and mother-in-law."
It all started when her neighbors asked her to prepare some food for their guests knowing how skilled she is: "I made food with lots of love and with the help of my children. I remember distinctively how much I was paid, JD62, which was not bad at all. I used the money to buy cooking equipment and quickly began receiving loads of orders. It was becoming hard to cook at home, hence the idea of a restaurant, so I rented a place downtown."
Social barriers
She equipped her restaurant, but would face social challenges, with friends, family and neighbors suggesting that her work was inappropriate for a woman. She got frustrated and closed her restaurant for six months. One day, she received a phone call from a stranger who saw her phone number on the restaurant sign and asked her for help for a big event he had. She was delighted and agreed on the spot. She rushed to the restaurant with her children to work on the order, which pleased the customer. Al-Widyan made JD189, which was a big sum of money for her and encouraged her to carry on with her project and ignore the frustration.
Her children are proud of her work; they always help her at the restaurant and whenever she participates in a bazaar, and even share her recipes and activities on social media.
"Through my work, I managed to support both my daughters through their university education."
Expanding the business
Al-Widyan participated in the MEDA-funded project Irbid Ladies' Kitchen along with 15 other women in a two year training. Nine of the women Hanan trained now have their own projects.
"When demand grew at my restaurant, I hired four women to help me and began expanding it to meet the increasing demand for traditional and modern food. I also trained various women in this area."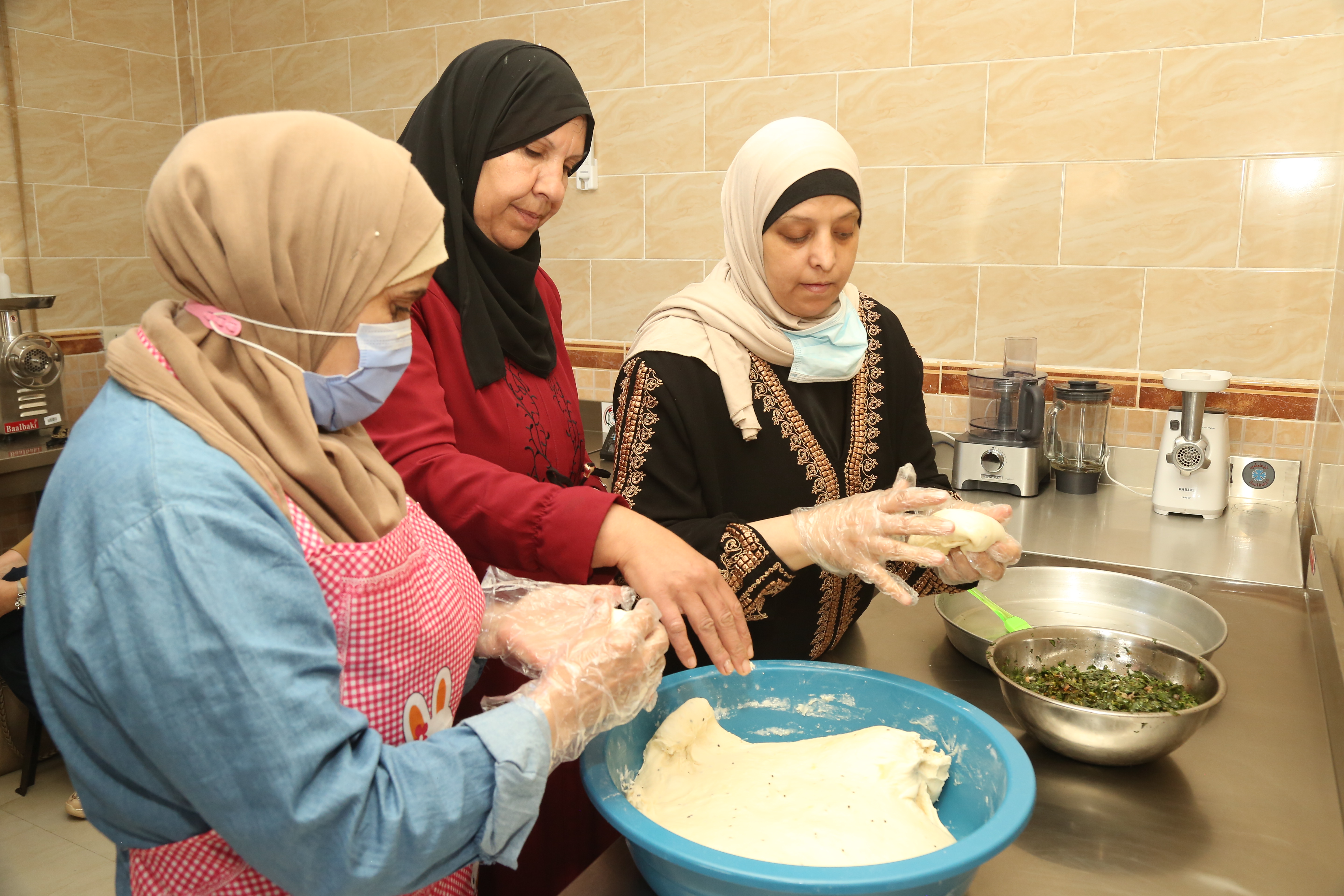 Women overcoming challenges
Ayah Al-Shonnaq is a participant in the Ladies' of Irbid Kitchen project. She started her career by making Eid sweets: "kaa'k Al-Eid". She joined the project two years ago and received training.
"I retired from my job as an administrative employee at a school, but I still had a lot to offer. I decided to make sweets for my friends, family and neighbors who encouraged me to start a career in this field. I achieved my desired financial independence and overcame the culture of shame dominating women's lives, especially home-based businesses owners."
Taghreed Al-Odat is another participant in the project and a strong believer in the idea of preserving traditional Arabic food.
"Prior to joining the project and training, I used to make various traditional foods such as "makmoura", "sha'asheel" and "kebbeh", as well as a type of desert called "laffet al-qadi", all to be able to support my son's education. My husband is an employee, and we really needed to improve our income, and I strongly believe that work generates confidence."
She makes sure her daughters learn traditional recipes to preserve them and hopes to own her own business one day.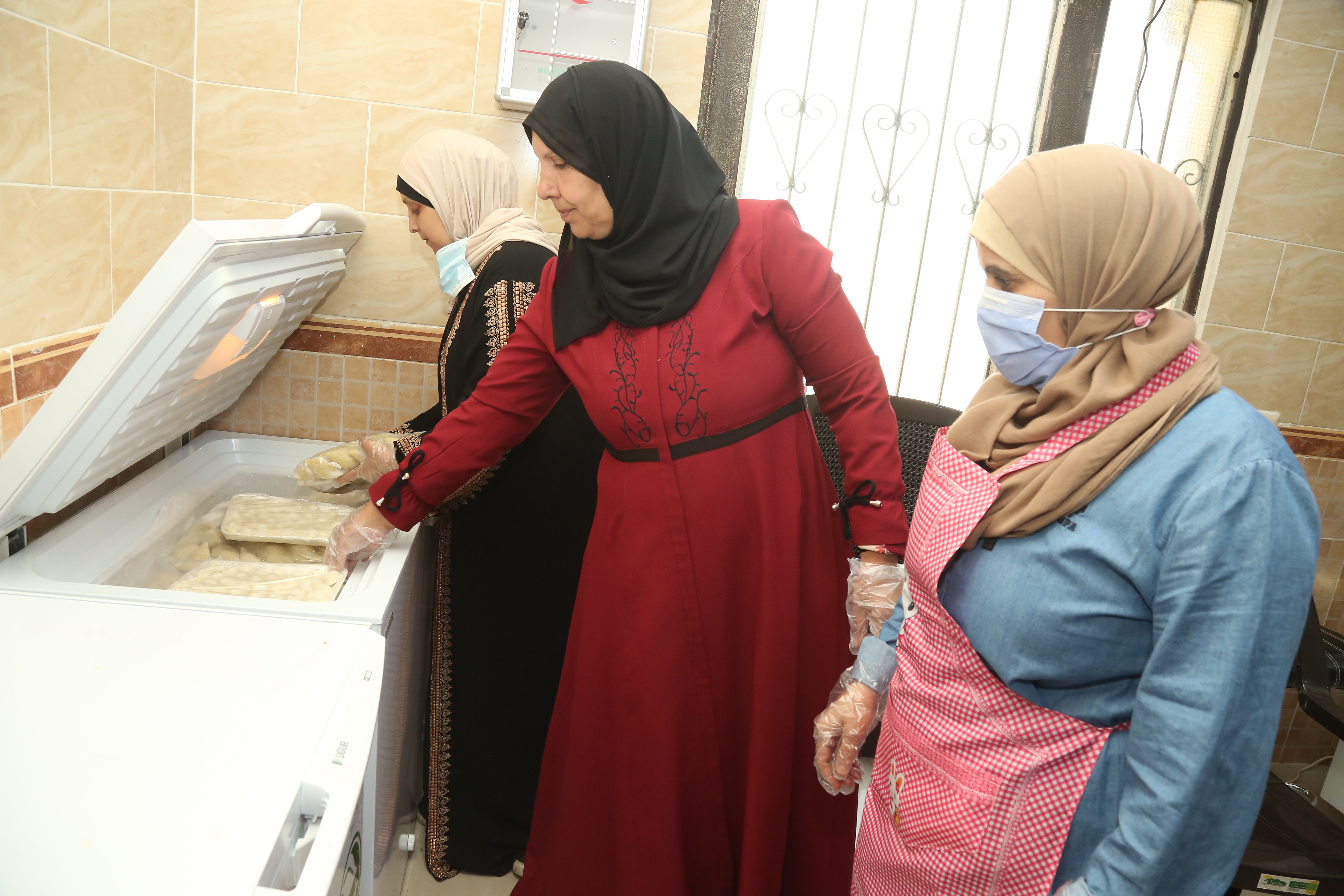 "Auntie" Hanan and her fellow ladies aim to go international and start a business of preparing traditional food and exporting internationally, to share it with the world. The nickname, Auntie Hanan,, of which she is proud, was chosen by her children due to the shared feeling of love for their aunts.
Al-Widyan believes that challenges facing women should be what motivates them further, and that they can shape their personality and improve confidence. With determination, nothing is impossible, she says.
Al Nahda Women Network functions under the umbrella of the Arab Renaissance for Democracy and Development (ARDD) and strives to highlight women's success stories in different areas and shed light on the challenges they face through a series of articles published on social media. This story is part of a series of blogs under 'For Us-by-Us Project' implemented in cooperation with Heinrich-Böll Stiftung Palestine/Jordan Office