On the occasion of International Women's Day (8 March 2020), the Arab Renaissance for Democracy and Development (ARDD) on behalf of Jordan National NGOs Forum (JONAF), represented by the Arab Cultural Forum, joined the world in highlighting one of the most important achievements of the women's rights agenda on the Jordanian scene: the implementation of the Jordan's National Action Plan (JONAP)on the UN Security Council Resolution 1325 (2000) on Women, Peace and Security. A dedicated event took place in Al Hussein Youth Sport City, in the attendance Director of Civil Defence, Colonel Anwar Tarawneh, representing the Director of Public Security, a number of public security officers, university presidents, Dr. Abeer Dababneh, the government general coordinator for human rights, a group of representatives of civil society organizations and diplomatic missions in Jordan, international and national bodies, cultural, media and press personalities and civil society organizations.
To mark this day, ARDD will acknowledge the efforts of women in the armed and security forces, as well as the role of civil society organizations – including members of Jordan National NGO Forum (JONAF) – in advocating for gender-specific priorities and needs in the JONAP implementation. Within this framework, ARDD is partnering with UN Women to encourage strong, confident and passionate women who believe they can make a difference in their societies and are able to join efforts in social peace and security in their communities. This initiative is generously supported by the Governments of Canada, Finland, Norway, Spain, and the United Kingdom. 
Mr. Basil Al-Tarawneh, head of Al Nahda Arab Cultural Forum, welcomed the attendees, summarizing the achievements made with regard to women in Jordan and the role of the Jordanian state in achieving them, he added "the authorities in Jordan has committed themselves to adopting UN resolution 1325, and Jordan initiated the creation of leadership institutions to empower and enhance the role of women in the country."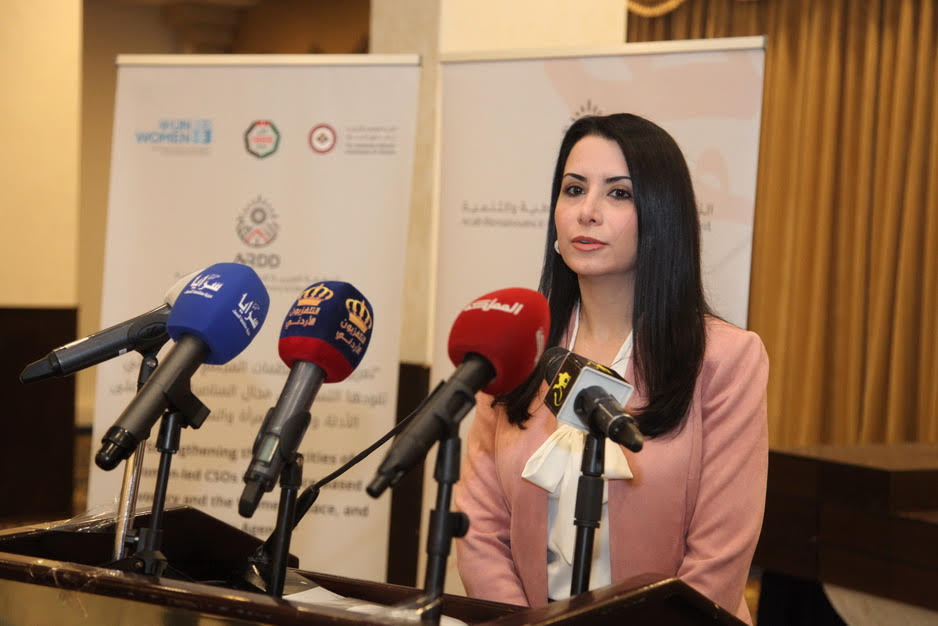 Samar Muhareb, ARDD's CEO commented, "Jordan has made several achievements in terms of involving women at all levels, and to promote their role in security, stability and social peace. However, additional efforts are needed to enhance their participation in the strategic decision-making process, especially in light of regional humanitarian crises, which are affecting women and girls severely. Parallel to this, their capabilities to extend help and support to their communities must be acknowledged. Today, we celebrate this group of pioneering and inspiring women, confirming our commitment to the principles of joint efforts and to amplify women's voices of and their demands of security, social peace and recovery in Jordan, as well as the region as a whole "
ARDD's research on "Jordanian Women in the Context of Conflict Prevention and Resolution" issued in November 2019, reveals the positive influence of young women in promoting a culture of peace and tolerance in their community. It also showed that women's self- perception is a key factor influencing their motivation and willingness to engage in their community.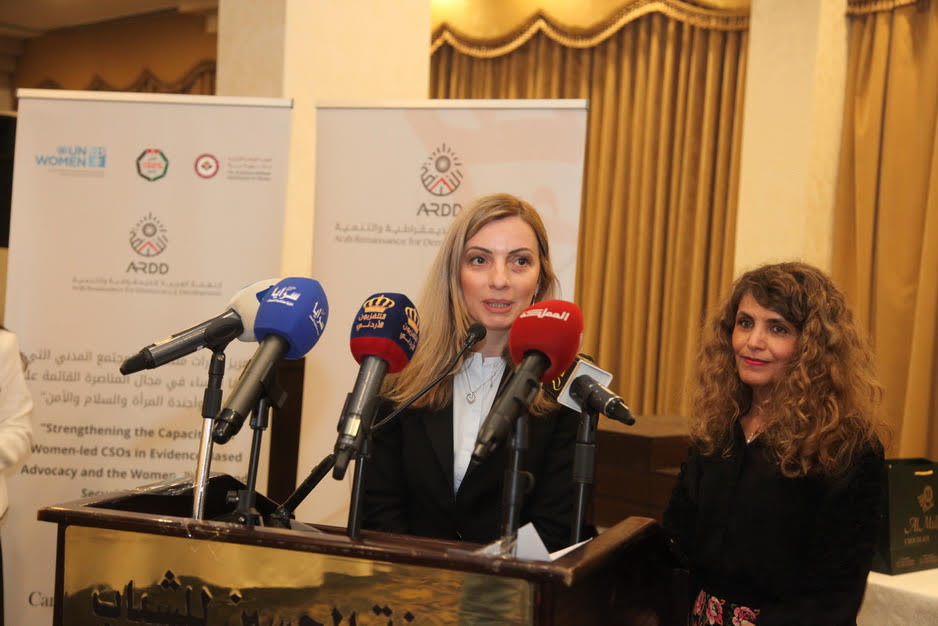 "Evidence shows that women's empowerment and participation contribute to sustainable peace, security and economic growth. Through the implementation of Jordan's National Action Plan on UNSCr 1325, we are promoting civil society and women grassroots' direct and meaningful participation towards the full achievement of its objectives in an inclusive manner" affirmed Ms. Tamar Tavartkiladze on behalf of UN Women Jordan.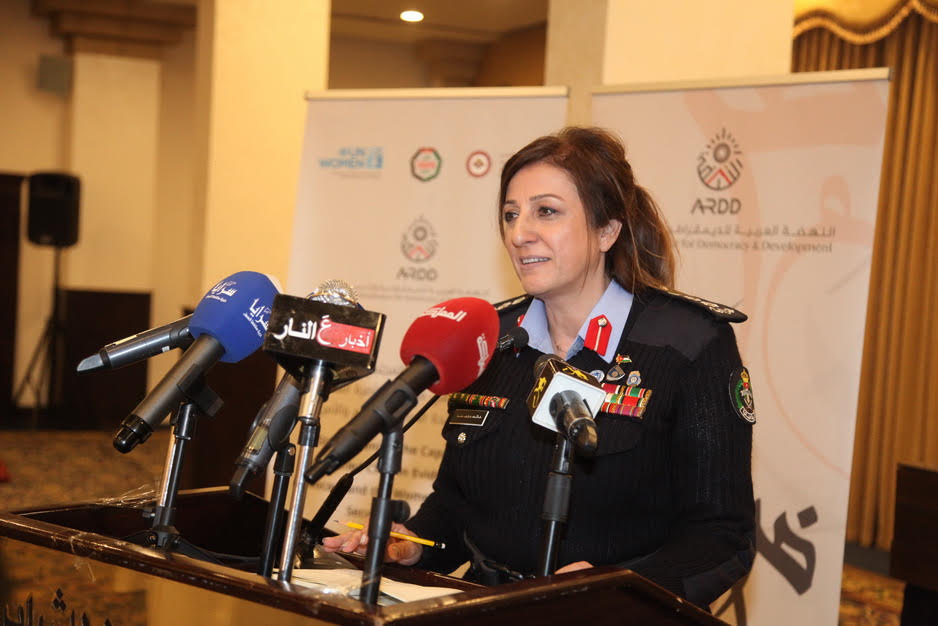 Colonel Khaleda Al Twal, Chief of Public Secretary Directorate's Women's Police Department, stressed that the aim of everyone present is centred towards a safer Jordan. She added that the public security apparatus's focus on promoting equality led to "the inclusion of salaries of women police in the raiding department, drug and patrols department in response to gender, and salaries of public security in the area of​​peacekeeping have been qualified at the request of the United Nations."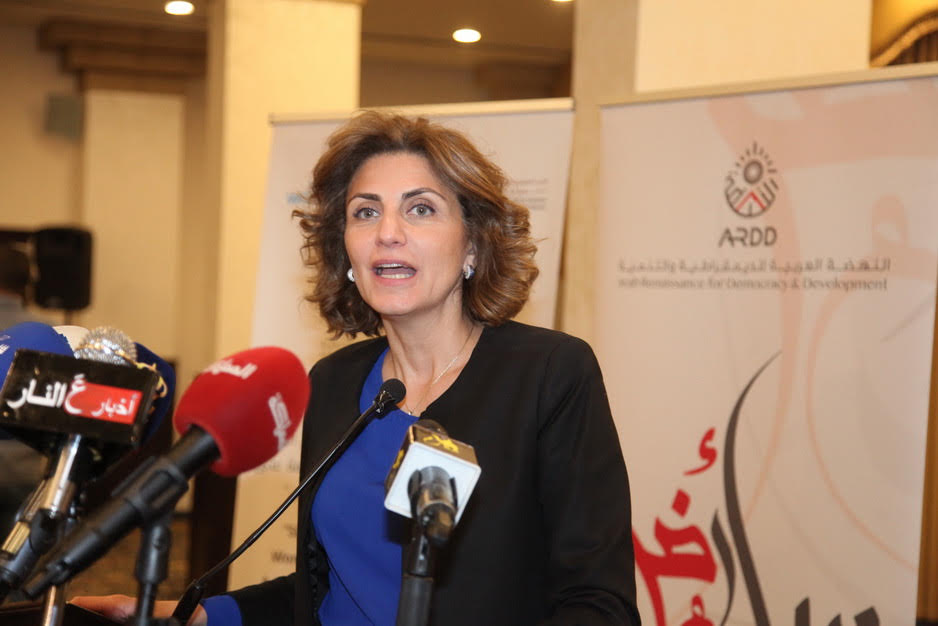 As for Dr. Salma Nims, Secretary General at Jordanian National Commission for Women, she shared her gratitude for alliances like JONAF, that aim to reinforce all efforts to activate Resolution 1325. She added that "Jordanian National Action Plan (JONAP) to activate Resolution 1325 is significant because of the active participation of Jordanian civil society organizations in its implementation and their partnership with the General Security, army forces, and government parties." Stressing that the civil society are the first to provide humanitarian response to refugees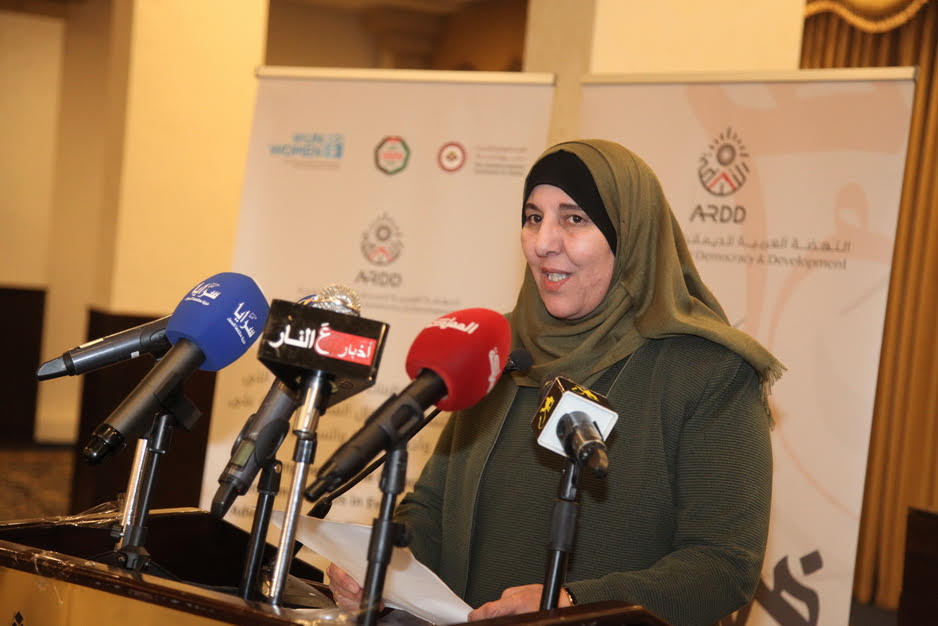 Mrs Najah Al-Awaidat, Chairperson of the Kiram Association and JONAF member, commented on the effectiveness of the role of civil society institutions in Jordan in the humanitarian response and the activation of Resolution 1325, and that this resolution was essential in activating the role of women in security.
The event witnessed the honouring of JNCW Secretary General Dr. Salma Nims in appreciation of her essential role and efforts in developing the Jordanian National Action Plan (JONAP) regarding UNSCR 1325, and a group of women from the General Security and the General Administration of Customs, and associations and members of the Jordanian National Alliance (JONAF), were also honoured for their role and efforts in activating Security Council Resolution 1325.
This initiative is also contributing this historic year which marks several galvanizing moments in the gender equality movement, including the 25th anniversary of the Beijing Declaration and Platform for Action, the most progressive roadmap for the empowerment of women and girls everywhere, and the 20th anniversary of UN Security Council resolution 1325 on women, peace.